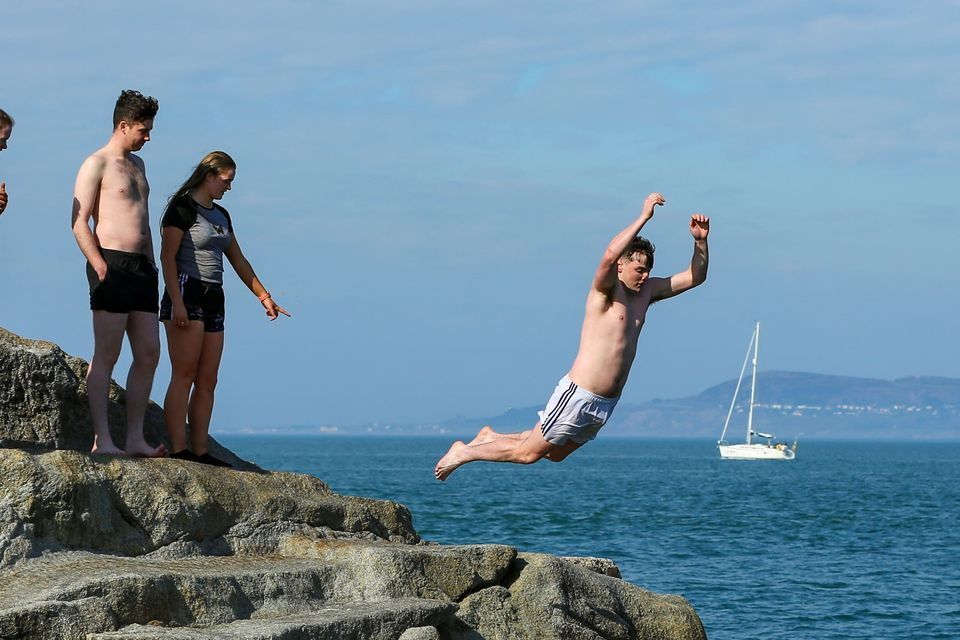 Met Éireann confirmed that Co Clare had the warmest day of the year and that tomorrow will see similar temperatures in the mid-20s along the west coast and midlands.
Mount Dillon in Roscommon also hit 25.5C while Newport in Co Mayo also felt the heat at 24.6C.
The east and the north of the country have been much cooler due to an easterly breeze with the Phoenix Park in Dublin recording a high of 19.4C while Malin Head in Co Donegal topped out at 15.3C, a full 10 degrees lower than Shannon Airport.
Temperatures will vary between 8C and 13C tonight in another clear night before tomorrow morning reveals another sunny and very hot day with temperatures again hitting the mid-20s.
"Tomorrow will be another generally dry and sunny day. Once again, cloud will bubble up in the afternoon and evening, mostly in the west with an isolated shower or two possible. Highest temperatures of 19C-24C generally. Cooler near eastern coasts with highest temperatures there of 16C-19C in a light to moderate easterly breeze.
"Staying dry and sunny for most [on Wednesday] with the chance of a light shower in Ulster. Highest temperatures of 20C-24C for most. The east and northeast will be slightly cooler with highs of 16C-19C in light to moderate easterly winds," Met Éireann said.
It will turn slightly cloudier and cooler on Thursday and Friday but most of the country will remain dry. Parts of the south and southwest could see showers on Friday but all indications are that it will remain largely warm and dry for the country for the next few days.
However holidaymakers and families have been urged to make the most of the glorious weather amid indications the Azores High frontal system off Ireland will weaken with unsettled conditions and rain likely for next weekend.
Mediterranean-like weather left beach resorts, parks and beauty spots across Ireland packed over the June bank holiday weekend as some counties proved warmer than Milan.
An estimated one million people savoured day-trips, mini-breaks and even early summer holidays as tourism officials said the sunshine had delivered an early season boom.
Hotels, restaurants and pubs reported busy trade – particularly in coastal areas – while councils increased refuse collections organised to ensure resorts remained in pristine condition.
However Met Éireann has warned that the end of the Riviera-like spell is likely ahead – to the relief of farmers who, while savouring excellent silage and crop conditions until now, were increasingly worried at the lack of rainfall and the possibility of an early summer drought.
Uisce Éireann, formerly known as Irish Water, said it had no plans for any hosepipe bans. However, some areas have already been subjected to overnight water restrictions in a bid to ring-fence strategic reservoir supplies.
The majority of Irish water supplies are operating normally and there are no plans to introduce widespread general water restrictions, although reservoir and water levels are being carefully monitored.
It is hoped the rainfall forecast for later this month will help boost reservoir levels.
The utility provider is urging members of the public to reduce water demand by avoiding power-washing, keeping the garden hose in the shed, checking for leaks on outdoor taps or troughs and, if using garden paddling pools for children, to carefully recycle the water for the garden or washing the car.
Met Éireann warned there is uncertainty with the forecast beyond next weekend but showers are a strong possibility.
"While considerable uncertainty remains for the further outlook, the early indications are that the high pressure will start to wane as we approach the weekend, bringing more unsettled conditions with an increased chance of rain," the forecaster said.